Market-leading flexibility
Working flexibly with Deliveroo means you choose exactly how you work. As outlined in your supplier agreement, this includes being able to choose to appoint other people to complete orders for you.
When you appoint a substitute it's your responsibility to make sure that this person meets all of the requirements to work with Deliveroo, as set out in your supplier agreement. This includes checking the following information about your substitute:
They are over 18 years of age
They have the right to work in Hong Kong
They do not have their own Supplier Agreement terminated by Deliveroo previously

Safety is the No.1 Priority
You should make sure that your substitutes refer to here for all onboarding and safety information available to all riders working with Deliveroo before they start to deliver orders.
You and your substitute are also entitled to be covered by our free rider personal injury and income protection insurance when working. This gives you supporting income in case you can't work because of an accident that happened when riding. Click here to learn more.
Your responsibilities as an account owner
It's up to you to agree payment terms and make payment to any substitutes.
Please remember, working with a substitute is an important responsibility, and failing to comply with these requirements may carry legal consequences. Deliveroo has a zero tolerance policy towards those who fail to meet their obligations in relation to any substitute engaged by them. If we are made aware of any riders working with substitutes who do not have the required authorisation to work, we will take immediate action and inform the relevant authorities.
Virtual Right to Work Checks
With this in mind, when you, or anyone using your account is providing delivery services, you might see the following in-app message prompting you to submit proof of your right to work in Hong Kong. Failing to complete these checks may result in your Deliveroo account being closed.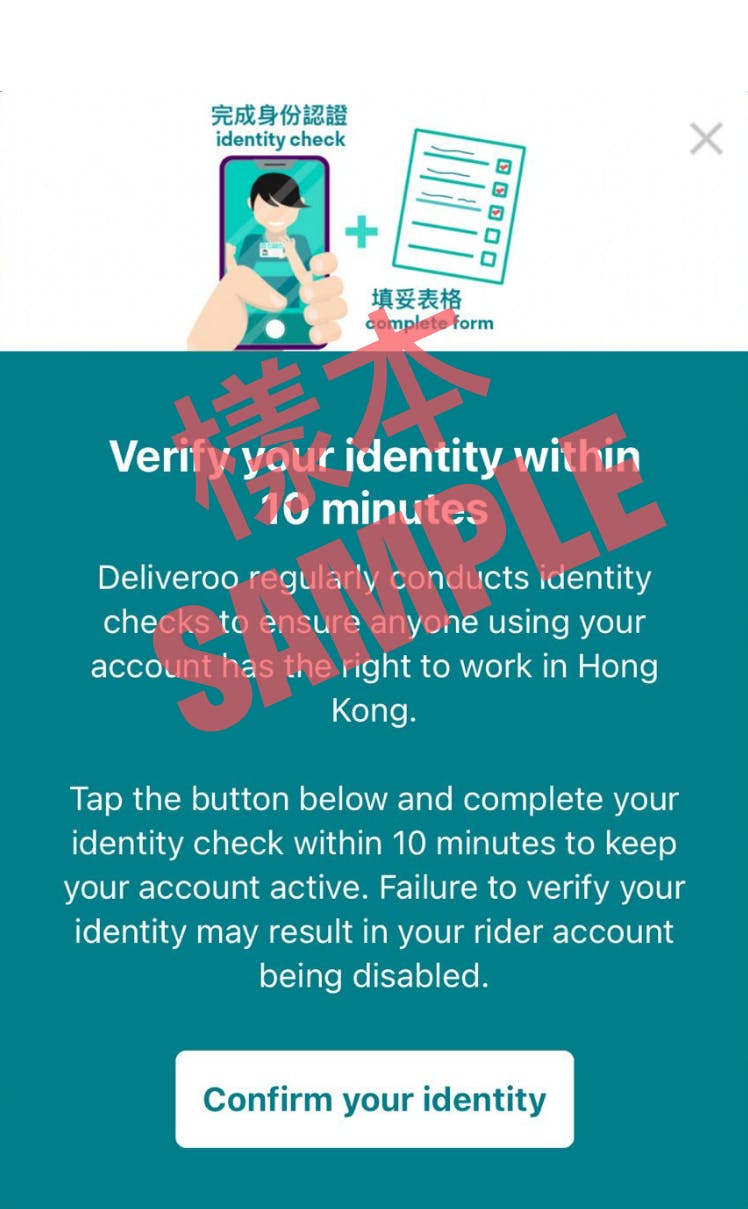 Please make sure to follow the steps below carefully if you are asked to conduct a check:
1. Tap the white button to access the form
2. Complete the form within 10 minutes of receiving the message (For detailed steps, please refer to the email)
Please make sure that you and your substitutes always carry HKID when riding with Deliveroo. When filling out the form and submitting the photo, you should ensure your face, the restaurant name or the order number is clearly visible in the photo so we can identify you.
Failure to verify your identity may result in your rider account being closed.
Report suspicious rider behaviour
Remember, for your own safety, please do not engage with anyone you believe may be riding without proper authority or lawfully, including if you suspect they do not have  the Right to Work in Hong Kong. Instead, you can report any suspicious behaviour by filling out this form here or contact our Rider Support team via the rider website.
If you have any questions about appointing a substitute, or these identity verification checks, please get in touch with Rider Support through the rider website.